Sourced from TripTrivia.com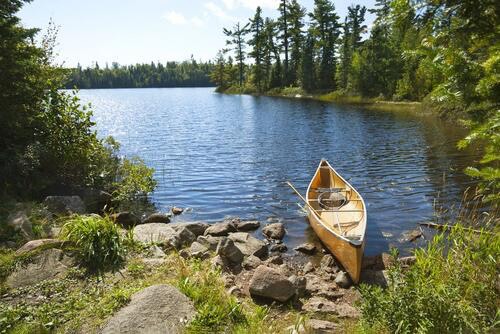 Does Minnesota Really Have 10,000 Lakes?
April 10, 2021
Minnesotans are proud of their lakes, so much so that the state motto displayed on license plates is "10,000 Lakes." A battle erupted in May 2019 when Sarah Meany, the top tourism official from neighboring frenemy state Wisconsin, told a radio broadcaster that her state had more lakes than Minnesota. Meany claimed that Wisconsin has 15,000 freshwater lakes compared to Minnesota's 11,000 or so. Meany was quoting data from the Wisconsin and Minnesota Departments of Natural Resources (DNR), which reports that Wisconsin has 15,074 lakes and Minnesota has 11,482.
At first glance, it would appear that Meany is correct, but before Wisconsinites start high-fiving the victory, the data requires deeper inspection. It turns out that Wisconsin and Minnesota use different metrics for determining what a lake is. Let's dive in and see how many lakes Minnesota really has!
First, let's settle the argument over which state has more lakes. Minnesota's DNR defines a body of water as a lake if it has a surface area of 10 acres or more. Wisconsin uses a more generous calculation and counts all bodies of water as lakes, from small, unnamed ponds to massive lakes. However, if Wisconsin's DNR used Minnesota's 10-acre metric, its number of lakes would drop from 15,074 to 5,898!
The USGS calls anything larger than a one-quarter acre a "lake/pond feature." According to the USGS, Minnesota has 124,662 lake/pond features, compared to Wisconsin's 82,099. Minnesota also has 8,784 named lakes to Wisconsin's 5,481; 43,041 lakes greater than one acre to 22,973; and 14,444 lake/pond features 10 acres or greater to Wisconsin's 6,176. Sorry, Wisconsin! Minnesota comes out ahead on all fronts using the USGS' database.
The biggest challenge of counting lakes is that no official lake definition exists. Size, depth, and volume of water are all possible criteria, but no one can agree on what the difference is between a pond, reservoir, basin, flowage (dammed water), or lake. The various local, state, and federal agencies that pay attention to such matters use different criteria to define a lake, so we are comparing apples to oranges when we try to count lakes across agency boundaries. Agencies also collect their data at different times of the year, so even the same state might come up with conflicting numbers if it counts lakes during the wet season and again during the dry season.
Paul S. Welch, a University of Michigan professor, defined a lake as "a body of standing water completely isolated from the sea and having an area of open, relatively deep water sufficiently large to produce somewhere on its periphery a barren, wave-swept shore." Ponds, on the other hand, are defined as "very small, very shallow bodies of standing water in which quiet water and extensive occupancy by higher aquatic plants are common."
Where Did Minnesota Get The Name "Land of 10,000 Lakes?
Given that Minnesota has 11,482 lakes (per the DNR), 124,622 lake/pond features, and 8,784 named lakes (per the USGS), you might be wondering why the state nickname is the "Land of 10,000 Lakes." Minnesota owes its famous moniker to public relations officials responsible for drawing tourism to the state, but the phrase actually originated from a famous speech. A professor touting Minnesota's economic strengths during the 1874 Minnesota State Fair was the first to use the phrase: "Certainly, therefore, we may justly claim that we are the hub of North America. Then we have 38 rivers in the state, six of which are navigable within the state. Then come over 10,000 lakes, abounding in delicious fish and the paradise of myriads of waterfowl." The speech was published in The Worthington Advance a few days later.
Travel guides picked up the phrase, especially during the early 1900s, to attract tourists and immigrants to the state. The Ten Thousand Lakes of Minnesota Association, founded in 1917, pooled financial resources from 50 statewide communities and purchased ads in state and national media promoting the state's attributes. The Land of 10,000 Lakes was finally a top summer destination!
We can safely say that Minnesota has 11,482 lakes that are 10 acres or larger. It would also be a relatively safe wager to bet on Minnesota having more bodies of water of any size than its rival neighbor, Wisconsin. Both states' residents can still argue over other regional squabbles such as Vikings versus Packers and Gophers versus Badgers. However, Alaskans can brag about having the most lakes in the country — the state boasts more than three million!
Interesting Minnesota Lake Facts
Minnesota's three largest lakes that are entirely inside state boundaries are Red Lake (288,800 acres), Mille Lacs Lake (132,516 acres), and Leech Lake (111,527 acres).
The 10 most common lake names are Mud, Long, Rice, Bass, Round, Horseshoe, Twin, Island, Johnson, and Spring. Minnesota contains 261 Mud Lakes.
Minnesota has 13,136,357 acres of surface water (including wetlands).
Of Minnesota's 87 counties, only four lack a natural lake.
Minnesota's Lake Superior shoreline stretches for 189 miles and encompasses 962,700 acres of its 20,364,800 total acres.
Minnesotan Ralph Samuelson invented water skiing on Lake Pepin in 1922 using homemade skis he fashioned from eight-foot-long wooden planks.
Lake Saganaga is the state's deepest natural lake at 240 feet.
Minnesota boasts 44,926 miles of shoreline, surpassing California's 35,477 and Florida's 30,672 (including ocean shoreline).